FERTILIZER CHOICES
ONE SIZE DOES NOT FIT ALL
Our standard fertilizer is always Granular and Slow Release, with Iron and Micro-Nutrients applied at the optimal times. This high quality product goes beyond the Industry Standard.

Lower Nitrogen, more Potassium, and a slower Release reduces stress and encourages a more consistent and healthy turf stand. This gives lawns the best possible synthetic elements and release. We recommend this product if you are renovating, seeding, trying to thicken your existing grass, or trying to grow grass under trees.

Soil is more important to the overall health of your lawn than any other variable. It has been proven time and again that organics suppress fungus and stimulate healthy microorganisms. By accelerating and stimulating microbial life (the life blood of rich soil), you can reduce thatch maintenance, increase drought tolerance, and insure better long-term health. Getting your soil closer to the optimum organic state will make a lasting difference.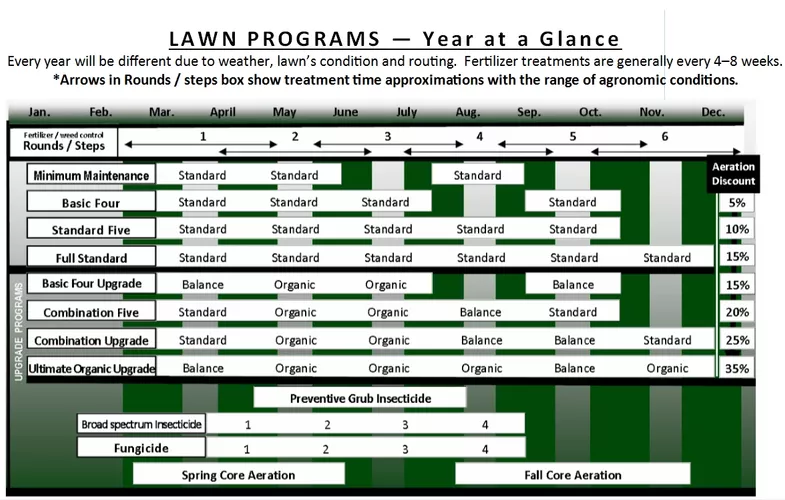 Full Standard- Gives the maximum amount of standard fertilizer and weed control treatments for a more consistent green and least weeds for all seasons. 15% of aeration

Basic Four Upgrade Limited number of treatments using only the best fertilizer and weed control options. 15% off aeration

Combination Five A five step program with upgraded fertilizer being applied at optimum times of the year including a winterizer. A great program for the money. 20% off aeration

Combination Upgrade A full six steps targeting the best option in our product line for that time of the year. Giving your lawn the healthiest, greenest, low- stress lawn for the money. 25% off aeration

Ultimate Organic Upgrade The most Organic fertilizer in a pre-designed program. This will build the soil the fastest and suppress light-to-moderate fungus problems (strange spots and circles). This is the lowest stress program we offer. 35% off aeration
__________________________________________________________________________________
WEED CONTROL
INCLUDED IN FERTILIZATION PROGRAMS
Broadleaf Weed Control

Post-emergent broadleaf weed control is applied in any fertilizer program and is guaranteed.

Our state of the are selective weed control products kill the weed at both the top and the rood; including Dandelion, Clover, Creeping Charlie, and over a hundred more. Our application process allows us to spray for weeds when needed. By only applying weed control when needed we are taking care of your lawn in a more environmentally-friendly way. This can translate to less over all weed control being applied, helping everyone rest easier. You can rest assured when weeds are present we will proactively spot treat or blanket your yard as a whole depending on weed pressure.

Grassy Weed Control

Pre-emergent annual grassy weed control is applied in any fertilizer program in the spring and is guaranteed. This treatment blocks the ability of Crabgrass, Foxtail, Goosegrass, and many other annual grassy and broadleaf weeds from completing their germination cycle.

Post-emergent annual grassy weed control is applied in an fertilizer program of four steps or more as needed. Annual grassy weeds appear in the summer and die after the first frost. If proper cultural practices (mowing and watering) are being followed we will proactively spray Crabgrass or other annual grassy weeds that appear. As a customer you can call anytime to have grasses assessed and treated.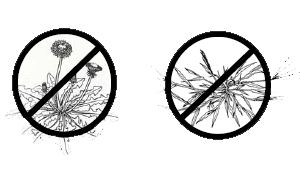 __________________________________________________________________________________
TALL FESCUE CONTROL
SELECTIVE CONTROL IS AVAILABLE
Tall Fescue is the taller, wide clumpy grass that is an eyesore in a finer grassed lawn. It is often mistaken for Crabgrass or Quackgrass by the homeowner. Tall Fescue is a perennial grass, which means it comes back every year and will spread out it not controlled.

We will treat the problem areas with a three step program. Proper cultural practices (mowing and watering) will be necessary to continue to provide optimal conditions needed for the best control results. Depending on the amount of Tall Fescue killed out, an aeration and overseeding may be necessary to help thicken and fill in the areas
__________________________________________________________________________________
VEGETATION CONTROL
NON - SELECTIVE WEED CONTROL
Lawns sometimes need some areas or spots killed to remove undesirable plants that will not die with selective weed control (kills the weeds not the grass) or be mechanically removed. This can include starting a lawn over because of perennial grassy weeds like Quack or Zoysia, for example. In these situations, we use a professional strength vegetation killer that will allow reseeding within just a few days. This service is usually done in late summer so seeding can be done soon after.
__________________________________________________________________________________
BED WEED CONTROL PROGRAM
LESS WEEDS FOR YOU TO PULL
By treating the beds three times and treating any weeds that appear throughout the season, we can eliminate most hand weeding. We cannot eliminate all weeds at all times, so this is an ongoing maintenance practice. This is the time to make a change that will save you from pulling weeds year after year.
__________________________________________________________________________________
GRUB / INSECT PREVENTATIVE
A STITCH IN TIME SAVES NINE
GRUB / INSECT PREVENTATIVE - Safer Technology

Large, sections of grass can die quickly due to the roots being eaten, so preventing the damage is key. This treatment is very affordable, and less toxic and costly compared to fixing damage that has already occurred. In sure that your lawn won't have problems in the future, and also give your lawn the edge. Only one treatment is needed, and lasts all season. This TECHNOLOGY is safer - tricking grubs into their next life cycle before they're ready. By targeting grubs and select insects, many beneficial insects are not harmed.

Insects Controlled Include: Grub Larvae, or the grub stage of Japanese Beetle, Asiatic Garden Beetle, Green June Beetle, Black Turfgrass Ataenius, Chafers, Crane Fly Larva, Mole Crickets, Billbugs, Chinch Bugs, Cutworms, and Sod Webwoms.

GRUB
Click here to read the grub guide. (PDF)
__________________________________________________________________________________
SURFACE FEEDING INSECT CONTROL
GET RID OF THOSE PESKY INSECTS
Cut down the amount of pests you have to put up with this summer season. This will control Armyworms, Cutworms, Sod Webworm, Annual Bluegrass Weevil, Billbugs, Black Turfgrass Ataenius, Leafhoppers, Mealy Bugs, Ants, Centipedes, Chinch bugs, Fleas (adults and larva), Fire Ants, Millipedes, Mole Cricket, and Ticks.
__________________________________________________________________________________
FUNGUS / DISEASE CONTROL
YOU CAN HAVE A BEAUTIFUL LAWN
Fungus Damage

If your lawn has fungus damage, stop the damage before it starts.

FUNGUS PREVENTATIVE- Lawns that have problems with circles and spots caused by fungus year after year can be controlled. Lawns that have problems with diseases are treated up to four times, every three to five weeks. With proper cultural practices, including aeration and organic fertilizer, your lawn can improve.

Disease Controlled Include: Anthracnose, Dollar Spot, Large Brown Patch, Summer Patch, Fusarium Blight, Necrotic Ring Spot, and many more.
Click here to read the summer season disease guide.
__________________________________________________________________________________
OVER-SEEDING / SLIT-SEEDING
GET THE RESULTS YOU'RE LOOKING FOR
We suggest over-seeding or slit seeding a lawn if it is thin or fatigued after years of use, after fungus and/or insect damage has occurred, or if it needs some help coming back from a tough year to prepare for the next. We only use premium high quality seed with the right mixture for shady and sunny areas. This seed is more resistant to insects, disease, acidic soil, and other common problems than the grass seed of yesterday. The best time is in the fall when soil temperatures stay warm and air temperatures and rain are more favorable for germination.

Over-seeding-This is usually done after core aeration or raking and followed with a starter fertilizer. It will thicken and strengthen your existing lawn by giving it diversity to fill in where your existing lawn is having problems.

Slit Seeding-We use a machine that slits the ground with blades while simultaneously dropping the seed into the slits. Planting the seed at exactly the right depth gives a very high rate of germination. Please note-slit seeding is not suitable for all areas.

Another Satisfied Customer
__________________________________________________________________________________
SOIL CONDITIONERS / AMENDMENTS
SOIL NEEDS MORE THAN JUST FERTILIZER
The ability to take in nutrients effeicently depends on many factors, including soil composition. Most lawns need these, and most people don't realize the difference they can make.
SOIL TEST
We will take soil samples and test them in a lab for pH, caution exchange rate and nutrient levels. Then we will professionally analyze the results and send them to you with our recommendations to correct any problems found.
GYPSUM
Gypsum loosens hard-packed soils, increases nutrient availability from fertilizer treatments making soil more receptive, and helps plants get a better chance to expand their roots. It also gives your lawn vital nutrients like Calcium. If you have clay, this treatment will help it hold and release nutrients and water. Gypsum also adds calcium without increasing the pH. We suggest you apply this after a double pass core aeration to enhance the ability of getting it into the soil. We apply at an amending rate (30-50 pounds per thousand square feet). Softening the soil will help lawns breathe and root, making any lawn thicker and healthier.
LIME / SULFUR
Soil pH is very important to all plants. Lawns like it between 6.5 and 7.5. Lime or Sulfur is added to correct or maintain a proper soil pH. If needed, we apply at an amending rate ( a soil test is recommended to determine if needed and rate to apply). Coupled with a core aeration, you will maximize the impact on your lawn. Lime especially helps lawns that are shady, have a lot of pine plants, or high amounts of leaves or rooting plant material. Color and health are enhanced by maintaining the proper pH. We can start with a soil test and let you know from there what will help most.

__________________________________________________________________________________
CORE AERATION
MAKE / KEEP YOUR LAWN BEAUTIFUL
| | |
| --- | --- |
| Core Aeration should be done yearly, if not both spring and fall, or at least every 1-2 years. This will establish and reestablish the root system and break down thatch. Aeration will reduce compaction, improve air exchange between soil and atmosphere, enhance water intake, improve fertilizer use, make turf grass more resistant to fungus and disease, stimulate turf grass rooting, enhance heat and drought resistance, and speed up thatch break down. If nothing else is done to your lawn this year, aeration is one of the most beneficial. Aeration is recommended every fall for optimum health and lawn maintenance. If nothing else is done to you yard this year, aeration is one of the most beneficial things for your lawn's health. We usually suggest fall core aeration every year. | |
| | |
| --- | --- |
| Thatch Build Up? | Why Core Aerate? |
| | | | |
| --- | --- | --- | --- |
| | Although a thin layer of thatch is beneficial, it should not exceed 1/2 inch. Excess thatch blocks out air, light and water from reaching the root zones. This problem is typical of sodded lawns and helps cause fungus. Aeration reduces thatch accumulation to healthy levels if done regularly. | | In most homes, the natural soil has been seriously disturbed by the building process. Fertile topsoil may have been removed or buried during excavation of the basement or footings, leaving subsoil that is more compact, higher in clay content and less desirable for healthy lawn growth. These lawns need aeration to improve the depth and extent of turf grass rooting and improve fertilizer and water use. Intensely used lawns are exposed to stress from traffic injury. Walking, playing, and mowing are forms of traffic that compact soil particles and reduce large air spaces where roots are ready to grow. |
Will Aeration Make a Difference?
To get a beautiful garden, you must till the soil. Aeration is how you till your lawn. Many people don't think they need aeration until they see their lawn is looking thin, or having other problems. A consistent, year-after-year aeration will make the difference in keeping a lawn beautiful.
*10% OFF Aerations if you schedule a regular fall Aeration to be done yearly!
Would you like a free estimate?